Wondershare Dr.Fone toolkit for iOS and Android 9.9.5.38 Multilingual [Multilanguage][VariousHost]
Publicado: 16 Mar 2019, 23:39
[center]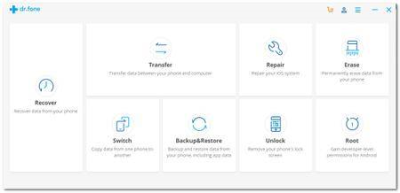 Wondershare Dr.Fone toolkit for iOS and Android 9.9.5.38 Multilingual + 8 Addins | 324.3 Mb
dr.fone kit de herramientas - Android Recuperación de Datos. El mundo del 1 de software de recuperación de datos para smartphones y tablets Android[/center]
La más alta tasa de recuperación en la industria. Recuperar fotos, vídeos, contactos, mensajes, registros de llamadas, y mucho más. Compatible con más de 6000 dispositivos Android.
Los datos perdidos después de restablecimiento de fábrica
la pérdida de datos debido a la actualización de iOS
Aparato pegado y no responde
falta de Datos después de la fuga de la cárcel o de la ROM flasheo
Dispositivo está bloqueado o contraseña olvidada
Incapaz de sincronizar la copia de seguridad
los Dispositivos Compatibles
iPhone X, iPhone 8 Plus, iPhone 8, iPhone 7 Plus, iPhone 7, el iPhone SE, iPhone 6 Plus, iPhone 6, iPhone 6 Plus, iPhone 6, iPhone 5s, iPhone 5c, iPhone 5, iPhone 4s, iPhone 4
Todos los modelos de iPad Pro, iPad Air, iPad mini y iPad
iPod touch 5, iPod touch 4
SO: Windows 10/8.1/8/7/Vista/XP de
de la CPU: 1GHz (32 bits o 64 bits)
RAM: 256 MB o más de RAM (1024 MB Recomendado)
de Espacio en Disco Duro: 200 MB o superior espacio libre
iOS: iOS 11, iOS 10, iOS 9 y ex
-
DOWNLOAD
nitroflare
Hidden Content
This board requires you to be registered, logged-in and to like topic to view the hidden content...